Research article
Open Access
Side chain requirements for affinity and specificity in D5, an HIV-1 antibody derived from the VH1-69 germline segment
Received: 29 November 2012
Accepted: 25 March 2013
Published: 8 April 2013
Abstract
Background
Analysis of factors contributing to high affinity antibody-protein interactions provides insight into natural antibody evolution, and guides the design of antibodies with new or enhanced function. We previously studied the interaction between antibody D5 and its target, a designed protein based on HIV-1 gp41 known as 5-Helix, as a model system [Da Silva, G. F.; Harrison, J. S.; Lai, J. R., Biochemistry, 2010, 49, 5464–5472]. Antibody D5 represents an interesting case study because it is derived from the VH1-69 germline segment; this germline segment is characterized by a hydrophobic second heavy chain complementarity determining region (HCDR2) that constitutes the major functional paratope in D5 and several antibodies derived from the same progenitor.
Results
Here we explore side chain requirements for affinity and specificity in D5 using phage display. Two D5-based libraries were prepared that contained diversity in all three light chain complementarity determining regions (LCDRs 1–3), and in the third HCDR (HCDR3). The first library allowed residues to vary among a restricted set of six amino acids (Tyr/Ala/Asp/Ser/His/Pro; D5-Lib-I). The second library was designed based on a survey of existing VH1-69 antibody structures (D5-Lib-II). Both libraries were subjected to multiple rounds of selection against 5-Helix, and individual clones characterized. We found that selectants from D5-Lib-I generally had moderate affinity and specificity, while many clones from D5-Lib-II exhibited D5-like properties. Additional analysis of the D5-Lib-II functional population revealed position-specific biases for particular amino acids, many that differed from the identity of those side chains in D5.
Conclusions
Together these results suggest that there is some permissiveness for alternative side chains in the LCDRs and HCDR3 of D5, but that replacement with a minimal set of residues is not tolerated in this scaffold for 5-Helix recognition. This work provides novel information about this high-affinity interaction involving an antibody from the VH1-69 germline segment.
Keywords
Keyhole Limpet HemocyaninPhage ELISAELISA SignalFunctional ClonePhage Solution
Background
Specific and high affinity antibody-antigen interactions are critical to humoral immunity. Understanding antibody-antigen structure-function relationships provides basic information about molecular recognition and can aid in development of new research and therapeutic reagents [
1
–
4
]. We previously studied the interaction between the HIV-1 antibody D5 and its target (a protein mimic of HIV-1 gp41 known as '5-Helix') as a model system for antibody-protein recognition (Figure
1
a) [
5
–
7
]. This interaction has several unique characteristics. D5 has very high affinity for 5-Helix despite the fact that it was not evolved against this target (i.e., D5 was obtained from a 'naïve' phage antibody library) and the heavy and light chains are not heavily mutated relative to germline sequences [
6
,
7
]. The reported K
D
values of D5 range from 50 pM to 20 nM, depending on the measurement technique (surface plasmon resonance, SPR, vs. isothermal titration calorimetry, ITC) and on the fragment (single-chain variable fragment, scFv, vs. antigen binding fragment, Fab, vs. IgG) [
6
–
9
]. In general, antibodies that bind proteins with high affinity contain extensively mutated (i.e., evolved) complementarity determining regions (CDRs); therefore, the lower mutation rate of D5 suggests that some naïve antibodies may have properties of evolved antibodies. Formation of the D5-5-Helix interface results in burial of > 1000 Å
2
of combining site surface and residues in all six CDRs are involved in direct contacts with 5-Helix [
6
]. Most other antibody-antigen interactions are dominated by residues in heavy chain CDRs (HCDRs). Finally, the D5 heavy chain is derived from the V
H
1-69 germline segment and the HCDR1 and HCDR2 regions are identical to the germline. A striking similarity exists between the HCDR2-dominated interactions of D5 and those of another V
H
1-69 antibody, CR6261, which targets influenza HA (Figure
1
b) [
6
,
10
–
15
]. The HCDR2 sequence and backbone conformations are highly similar, and in both cases the critical feature of the recognition involves insertion of F54 (a germline-encoded HCDR2 residue) into a hydrophobic cleft on the antigen [
6
,
11
]. Interestingly, while the HCDR1 regions are highly similar between both antibodies, an S30R mutation in CR6261 was shown to be a specificity determinant in its interaction with HA [
14
]. These results suggest that, while the hydrophobic HCDR2 may serve as a critical anchor point to engage in antigen recognition, other regions could play an important role in specificity determination. We previously reported that light chain contacts in D5 play an important role in affinity for 5-Helix [
5
].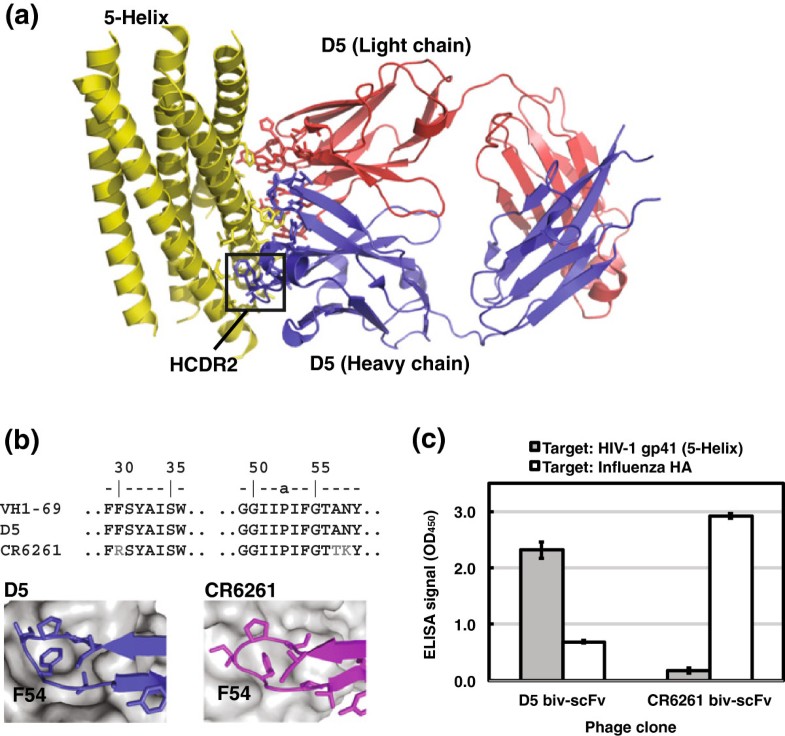 A growing body of work has deciphered the rules for molecular recognition by antibodies and other immunoglobulin-like scaffolds. Recent efforts have focused on developing libraries containing restricted diversity segments within the CDRs of stable heavy and light chain variable domain (VH and VL, respectively) frameworks [16–21]. This diversity is encoded by designed, synthetic oligonucleotides ('synthetic antibodies') which, when used in combination with screening by a display method (e.g., phage display, yeast display, or mRNA display), allows for identification of antibodies or antibody fragments with specificities and affinities comparable to or better than antibodies obtained from natural sources [22–26]. Additionally, restricted diversity libraries permit high-throughput mutagenesis studies of combining site residues to determine which characteristics most accurately reflect the physicochemical attributes of functional antibodies [4, 16–18]. As an example, libraries in which residues at the CDRs are allowed to vary among subsets of amino acids (in some cases as few as two – Tyr and Ser) yield high affinity and specific binders in the context of regular immunoglobulin scaffolds and single-domain variants [4, 16]. These results highlight the versatility of the immunoglobulin scaffold for molecular recognition.
Here we examine the factors that contribute to affinity and specificity of D5 by phage display using 5-Helix as a model antigen. The germline-encoded HCDR2 is believed to represent a critical feature of VH1-69 antibody recognition, as reflected in the apparent similarities in HCDR2 interactions between D5, CR6261, and others [6, 10, 14, 15]. Therefore, we created two D5-based phage display libraries, in which the HCDR3 and the light chain (LCDRs) were allowed to vary using two different randomization schemes. We evaluated the abilities of these two libraries to specifically recognize 5-Helix with high affinity. This study provide insights into aspects of antibody recognition by the VH1-69 germline.
Discussion
Our high throughput analysis of selectants from D5-Lib-II indicates that the pool contained diverse clones with a variety of binding affinities. Interestingly, most clones maintained their specificity at both the antigen level (as judged by the high throughput ELISA 'specificity analysis') and many retained conformational specificity (as judged by recognition for 5-Helix over 6-Helix-Fd). Global sequence analysis of functional clones suggested LCDR1 and LCDR2 could accommodate many residues while LCDR3 was more restrictive. This may reflect biases of natural antibodies to utilize LCDR3 as a predominant contact region. Furthermore, we previously reported that the D5 LCDR3 contains several hot spot residues [5]. Therefore, it seems this region is important for recognition of 5-Helix in multiple contexts. On a clonal level, it appears there are many recognition solutions while retaining D5-like affinity and specificity. As an example, clones 25D6, 25F1, 25B6, and 25F10 were comparable to D5 by our metrics but had very different LCDR features. In particular, 25B6 contains Arg in position 30, 50, and 53, and Asp in position 92 and 93. It is conceivable for the charged residues in the light chain enhance stability and solubility on a very hydrophobic VH antigen-binding surface; it is also reasonable to speculate that the charge residues can be used to improve overall binding interface by electrostatic complementarity.
The observation that D5-Lib-I did not yield D5-like clones is surprising in light of the fact that the critical HCDR2 loop of the VH1-69 germline segment is included in these two repertoires. Interactions of two hydrophobic residues (I53 and F54) in the HCDR2 of CR6261 were enough to trigger B cell activation [14]. And importantly, a handful of somatic hypermutations were enough to allow D5 to bind 5-Helix in low nanomolar to high picomolar affinity. Thus, inclusion of residues that have important physiochemical properties biased toward protein-protein interaction should be sufficient to yield functional clones. However, our results indicated that interactions with 5-Helix using a VH1-69 germline clearly require extended interactions of a very specific nature involving the light chain [5]. Libraries based on the VH1-69 scaffold may therefore require a much larger diversity to achieve high affinity and specificity. We conclude that while there are some requirements in side chains of the LCDR positions (as demonstrated by the moderate functionality of clones from D5-Lib-I), there is some permissiveness for affinity and specificity of the 5-Helix antibody recognition provided the correct attributes are present.
Humoral immunity requires a delicate balance of a broadly reactive naïve repertoire (i.e., 'germline-encoded' antibodies) and highly specific evolved antibodies. Structural and biochemical work on hapten-binding antibodies has demonstrated that germline-encoded antibodies typically exhibit polyreactivity through dynamic CDRs [39–41]. Mutations that arise during affinity maturation reduce the flexibility of the CDR segments such that they are locked into a conformation that is productive for antigen binding. This "conformation locking" mechanism may have played a role in dominance of WT HCDR3 because of the degeneracy of the codon set did not allow Pro to be permitted in position 97 in D5-Lib-II, a residue that is important for the interaction with D5.
However, it is less obvious how protein-binding antibodies evolve specificity and affinity. Studies with an anti-hen egg white lysozyme (HEL) antibody and its germline-encoded progenitors suggests that affinity maturation in this case involves optimization of CDR loop conformations by mutation of a residue at the VH-VL interface [42]. Similar to other protein-protein interactions, the affinity of protein-antibody interactions is significantly influenced by the complementarity of the two interacting surfaces and the exclusion of water at the intermolecular interface [43]. In the case of the anti-HEL antibodies, a key mutation at the VH-VL interface resulted in HCDR1 and HCDR2 displacements that optimized the overall antigen-binding surface. This model is unlikely to be generalizable since the vast majority of matured protein-antibody interactions involve a high degree of mutation in the CDR segments. Furthermore, in vitro evolution of protein-binding antibodies can be achieved by mutagenesis of the CDR segments alone [44].
We previously examined the D5-5-Helix interaction by scanning mutagenesis and found that the high affinity results from extended interactions involving the VH and VL. Here we find that both affinity and specificity can be altered with mutations in the LCDRs and HCDR3. The fact that positions in the functional paratope of the D5-5-Helix complex (as determined by a large ΔΔGAla-WT in alanine scanning mutagenesis studies) were permissive while retaining affinity and specificity suggests that there are multiple solutions to evolution of binding. However, the hexanomial restricted diversity library D5-Lib-I did not yield high affinity clones; this result suggests that some functional constraints do exist, and that these constraints differ from other germline scaffolds.
Conclusions
Here we have explored side chain requirements for binding and specificity in D5, a model HIV-1 antibody derived from the VH1-69 germline segment. These results provide a template for future synthetic antibody libraries based on this germline scaffold, and provide novel insights into protein-antibody recognition.
Methods
Expression and purification of 5-Helix and 6-Helix-Fd
5-Helix was isolated essentially as described [5, 29]. A synthetic gene encoding the 6-Helix-Fd sequence (see Additional file 1: Table S1 for details) was obtained from a commercial supplier (Genewiz, South Plainfield, NJ) and cloned into pET22b using NdeI and XhoI restriction sites to produce the expression plasmid pLR22. E. coli BL21(DE3) cells (Invitrogen, Madison, WI) harboring pLR22 were grown in LB broth at 37°C to OD600 ~0.6, and expression induced by the addition of 0.5 mM isopropyl-β-D-thiogalactopyranose (IPTG). The culture was incubated overnight at 15°C. The cells were isolated by centrifugation and lysed in a French pressure cell. The soluble and insoluble fractions were separated by ultracentrifugation; the 6-Helix-Fd protein was contained in the insoluble fraction. The insoluble fraction was resuspended in 6 M GdnHCl, the cell debris removed by centrifugation, and the supernatant applied directly to Ni-NTA resin (Qiagen, Valencia, CA). The resin was washed with 20 mL of 6 M GdnHCl/20 mM imidazole, then with 20 mL of 6 M GdnHCl/50 mM imidazole and the protein was eluted with several fractions 6 M GdnHCl/200-500 nM imidazole. The fractions containing the purified protein were pooled, and refolded by dialysis into phosphate-buffered saline (PBS, pH 7). The protein was either used immediately for analysis or flash frozen and stored at – 80°C.
Phage display
The D5 scFv display phagemid pJH3 [5] was altered to allow bivalent D5 scFv display to produce phagemid pJH3B. The open reading frame (ORF) consisting of the D5 scFv sequence upstream of the C-terminal 188 residues of M13 phage coat protein pIII (pIII-CT) in pJH3 was expanded to include an IgG hinge region and a GCN4 leucine zipper segment between the scFv and pIII-CT. The final construct (pJH3B) has an ORF containing the OmpA periplasmic export sequence, an N-terminal FLAG epitope (for detection), the D5 scFv, the IgG hinge region, GCN4, and pIII-CT as a single chimeric fusion protein. Phage ELISA and Western blotting confirmed functional display of the bivalent D5 scFv assembly on phage particles (not shown). Bivalent display of the CR6261 scFv was similar; a synthetic DNA fragment encoding the CR6261 scFv codon optimized for E. coli was obtained from DNA 2.0 (Menlo Park, CA) for construction of this display vector. For cross-reactivity studies, influenza HA was purchased from Sino Biological Inc. (Beijing, P.R. China).
Phage growth and ELISA analysis was performed using standard methods [5, 45]. E. coli XL1-Blue harboring the appropriate phagemid were grown to mid-log phase in LB broth supplemented with 5 μg/mL tetracycline and 50 μg/mL carbenicillin. Helper phage VCSM13 (Stratagene, Santa Clara, CA) or M13K07 (New England Biolabs, Ipswitch, MA) were added to 1010 plaque-forming units (pfu)/mL followed by 25 μg/mL kanamycin. The culture was grown 18 hrs at 30°C, the cells removed by centrifugation, and phage precipitated by addition of 3% (w/v) NaCl and 4% (w/v) PEG 8000. The phage were pelleted by centrifugation and resuspended in PBS containing 1% BSA. For phage ELISA, wells of Costar EIA/RIA high-binding plates were coated with antigen (typically 0.2 – 1.0 μg/well) in 100 mM NaHCO3 pH 8.5 at room temperature for 1 hr or at 4°C overnight. The well solutions were decanted and unbound sites were blocked by incubation with PBS containing 1% BSA for 1 hr. The wells were washed with PBS containing 0.05% Tween 20 (PBS-T), then the phage solutions were added and allowed to bind at room temperature for 0.5 – 1 hr. The phage solutions were decanted, the wells washed 5 – 7 times with PBS-T, then a solution containing anti-M13-horseradish peroxidase conjugate (GE Healthcare, Piscataway, NJ) was added and allowed to bind for 0.5 – 1 hr as directed by the manufacturer. The wells were washed with PBS-T and developed by addition of a 3, 3', 5, 5'-Tetramethylbenzidine (TMB) substrate. The ELISA signal was quantified either by direct measurement of blue color absorbance (OD650) or by quenching with H2SO4 after 10 mins and determining the OD at 450 nm.
Library construction
Library DNA was prepared using Kunkel mutagenesis [5, 19, 45]. A template clone based on pJH3B (see above) was prepared in which LCDR2 and LCDR3 regions were replaced with poly rare-Arg codon-containing segments. We have found that rare-Arg codon-containing segments provide enhanced selection relative to similar strategies that use stop codon-containing template clones because the residual rare Arg-codon template is less prone to growth advantages. Single-stranded, uridine-enriched DNA (ss-dU-DNA) of rare Arg-containing template clone was prepared in CJ2036 E. coli (NEB) using established protocols. Kunkel mutagenesis performed using 5'-phosphorylated primers corresponding to the reverse complement of the designed library sequences as previously described [5]. In general, Kunkel reactions contained 10 μg of template DNA, three-fold excess of library primer, three units of T7 polymerase and two units of T4 ligase. These reactions were incubated at room temperature overnight and then the library DNA purified using a QIAgen PCR purification kit.
The E. coli clone SS320 was used for library electroporations and was prepared by mating MC1016 and XL1-Blue [19, 45]. The purified library DNA was electroporated into SS320 competent cells that had been preinfected with VCSM13 or K07. Typical electroporations were performed with 350 μL of competent cells and 10 μg of purified library DNA in 0.2 cm cuvettes using a BioRad Gene Pulser electroporator (2.5 kV and 200 Ω). Cells were allowed to recover for 45 min at 37°C and then large scale phage production was performed as above. Library phage were suspended in PBS and either used immediately for screening or stored at – 80°C. The final library phage preparations had high infectious titer (1012 – 1013 pfu/mL). The quality was assessed by large-scale DNA sequencing of phage clones; in all cases, the libraries were highly diverse in sequence and contained ~ 30% functional library members.
Library selection and analysis
Library sorting was performed in Costar EIA/RIA plates; the antigen was immobilized into plate wells as above. Library phage were added and allowed to bind for 1 – 2 hrs, then the wells were washed extensively with PBS-T. The binding phage were eluted by treatment with 100 μL of 100 mM glycine HCl pH 2.0 for 10 min, and the solution was neutralized by addition of 50 μL of 2 M Tris, pH 8.0. The neutralized phage solution was then added to 5 mL of log-phase XL1-Blue E. coli in 2×YT broth supplemented with tetracycline. After 1 hr, 50 μg/mL carbencillin along with helper phage were added and the culture was grown at 37°C for 1 hr. Subsequently, 25 mL of 2×YT containing 50 μg/mL carbenicillin and 25 μg/mL kanamycin were added and the culture was grown at 30°C for 18 hrs. The cells were removed by centrifugation, then the phage was isolated as above and used immediately for subsequent rounds of infection. Selection progress was monitored by 1) large-scale sequencing of the phage populations (to look for enrichment of library clones) and 2) output phage titers from wells containing the target to wells containing a BSA control.
Individual clones were grown small scale for high-throughput phage ELISA analysis in deep 96-well plates. Cultures of 1 mL LB broth containing carbencillin were inoculated with colonies corresponding to selectants, helper phage were added (1010 pfu/mL) and the culture grown at 30°C for 18 hrs. The cells were removed by centrifugation and the supernatant applied directly to ELISA plate wells in which the antigen or control protein had been immobilized. Phage solutions were allowed to bind for 15 mins, the wells washed with PBS-T, and then the bound phage detected with the anti-M13/HRP conjugate as above. For specificity profile analysis, LF and KLH were purchased from Sigma-Aldrich (St. Louis, MO). Single-point competitive ELISAs were similar except that the phage solutions were preincubated with 40 nM 5-Helix for 30 min before addition to wells containing the immobilized 5-Helix. Both specificity profile analysis and single point competition analysis were spotchecked for reproducibility and, in general, gave consistent results among independent experiments. Competitive phage ELISAs were performed essentially as described [19].
Expression of scFv proteins and monoclonal ELISAs
Phagemid vectors were converted to expression vectors by replacement of the hinge, GCN4 and pIII-CT segment downstream of the scFv segment with a hexahistidine tag. The scFv proteins were expressed in the periplasm of E. coli BL21. Cultures were grown in low-phosphate media at 30°C for 14 – 16 hrs and the cells harvested by centrifugation. Cell lysis was achieved by treatment with Bug Buster (Novagen, Madison, WI). The lysate was clarified by ultracentrifugation and purified by nickel affinity chromatography. Purified scFv proteins were dialyzed into PBS then used immediately for analysis or flash frozen and stored at – 80°C. Analysis by ELISA was similar to phage ELISA except that an anti-FLAG/HRP conjugate was used to detect the scFv protein (a FLAG epitope is present at the N-terminus).
Structural modeling of 25B6
To model the 25B6-5-Helix interaction, we used the FixedBBProteinDesign module in Rosetta3 using the co-crystal structure of D5 and 5-Helix as a starting model (PDB ID 2CMR) [6, 38, 39]. Amino acid substitutions were incorporated in the light chain to match the 25B6 sequence; the lowest energy structure from 200 runs is represented in Figure 3. The following command line options used were used: minimize_sidechains, ex1, ex2, nstruct 200, use_input_sc, and linmem_ig 10.
Declarations
Acknowledgements
This work was supported by the Albert Einstein College of Medicine, the NIH (R01-AI090249 to JRL), and the Einstein-Montefiore Center for AIDS Research (EM-CFAR; P30-AI51519). JRL acknowledges the Arnold and Mabel Beckman Foundation Young Investigator Award. AS was supported in part by a fellowship from the UNCF/Merck Science Initiative, and JSH by an NIH Molecular Biophysics Training Grant (T32-GM008572).
Authors' Affiliations
(1)
Department of Biochemistry, Albert Einstein College of Medicine, Bronx, USA
Copyright
© Stewart et al.; licensee BioMed Central Ltd. 2013
This article is published under license to BioMed Central Ltd. This is an Open Access article distributed under the terms of the Creative Commons Attribution License (http://creativecommons.org/licenses/by/2.0), which permits unrestricted use, distribution, and reproduction in any medium, provided the original work is properly cited.