Correspondence

Open Access
Revalidation and rationale for high pKa values of unconjugated bilirubin
Received: 26 December 2006
Accepted: 02 May 2007
Published: 02 May 2007
Abstract
Background
Our prior solvent partition analysis, published in 1992, yielded pKa values for unconjugated bilirubin of about 8.1 and 8.4, but these results have been challenged and studies by other methods have suggested pKa values below 5.0.
Methods
We repeated our published solvent partition studies, using 14C-unconjugated bilirubin highly purified by extraction of residual labeled impurities from CHCl3 into an aqueous buffer, pH 7.0. Partition ratios at six pH values from 5.0 to 9.0 were determined by radioassay and compared with our prior values obtained by diazo assay.
Results
At pH values ranging from 4.8 to 9.2, stable aqueous/chloroform 14C-partition ratios did not differ significantly from our published partition ratios based on diazo assay.
Conclusion
These results support the high pKa values of unconjugated bilirubin, above 8.0, derived from our earlier solvent partition study. In both studies, our measurements were based on the rapid analysis of clearly under-saturated solutions of highly-purified bilirubin over a wide pH range, using properly purified and preserved solvents. No previous direct estimate of the aqueous pKa values of unconjugated bilirubin meets all these preconditions. Three theoretical factors acting in combination, each related to the unique, extensive internal H-bonding of the -COOH groups, are proposed to support high pKa values of unconjugated bilirubin in water: a) donation of an H-bond from the -OH moiety of the -COOH group, which is broken on ionization; b) hindered solvation of the -COO- group after ionization; and c) restricted rotation of the -COO- and -COOH groups. Our findings and rationale rebut methodological and theoretical criticisms leveled against our prior work. High pKa values for unconjugated bilirubin dictate that: a) bilirubin diacid, which readily diffuses across membranes and can cause neurotoxicity, is the dominant unbound bilirubin species of unconjugated bilirubin in plasma at physiological pH; b) at the near-neutral pH range of gallbladder bile, the monoanion is the major unconjugated bilirubin anion present, concordant with the finding that the calcium bilirubinate precipitated in gallstones is the monoanion salt. Our conclusions are thus relevant to understanding bilirubin-induced neurological disease in severely jaundiced neonates and the precipitation of calcium bilirubinate salts in gallstones.
Keywords
Dicarboxylic Acid
COOH Group
Phthalic Acid
Partition Ratio
Unconjugated Bilirubin
Background
In solution, unconjugated bilirubin (UCB) exists as three species in equilibrium, the fully protonated diacid, the monoanion, and the dianion [1]. These three UCB species have quite different properties and functions [1]. The true pKa values of UCB are of great physiological and well as basic relevance, because they affect UCB species distributions [1] and estimates of the aqueous solubility of UCB diacid [2]. Unfortunately, there are tremendous variations among the reported pKa values for bilirubin in aqueous solutions, as determined by a wide variety of methods. Most studies in the literature suggested pKa values below 7.0 and even below 5.0, whereas our solvent partition studies [3] indicated that the two pKa values were higher, 8.12 and 8.44. If, in contrast, the assumed pKa values of 4.4 and 5.0 [4] are used to represent low pKa's, the ratio of diacid/dianion at pH 7.4 would change from 0.58 (high pKa's) to only 4 × 10-6 (low pKa's), and the solubility of UCB diacid would change from the experimental value of 5 × 10-8 M [3] to less than 10-14 M [2]. Such differences are clearly of great significance in understanding the interactions of UCB and its pathophysiological effects, most notably: a) bilirubin-induced neurological disease in severely jaundiced neonates [5, 6]; and b) the precipitation of calcium bilirubinate salts in gallstones [7].
The reported variations in pKa estimates are due in large part to the methodological difficulties of studying bilirubin at concentrations below its low aqueous solubility limit (< 0.1 μ M at pH ≤ 7.8 [2]) and the ready degradation of the pigment to more polar derivatives with much higher solubility and different ionization properties [8–10]. The tendencies of UCB to deteriorate require that the pigment be purified just before experimental use, and that the measurements be made over a brief time span. Recently, we have shown that the customary purification method [11], leaves a small but significant proportion of polar impurities, most of which can be removed by serial extraction into aqueous buffer at pH 7.0 [10]. The present work, utilizing 14C-UCB highly purified by this new approach, permitted us to determine, by direct radioassay of the two phases, the 14C-partition ratio at very low aqueous concentrations of UCB that were uniformly below saturation. The results confirmed our findings based on solvent partition of unlabeled UCB with diazo-assay of the two phases [3], further supporting our conclusion that the pKa values of UCB are both above 8.0.
Results
Changes in 14C-PR over serial partition cycles
As described previously [10], similar results were obtained at pH 6.0, 7.0 and 7.4. The 14C-PR declined steeply between the first and second cycles, to 40–67% of the initial 14C-PR, and essentially stable, lower 14C-PR were attained from the second cycle on. By contrast, at pH 8.0 and 9.0, the decline between cycles was shallow and not significant. There were no significant differences in 14-PR between phosphate and zwitterion buffers at pH 7.0, 7.4 or 8.0.
Comparison of 14C-PR with PRdiazo
Partitions performed with an upper to lower phase volume ratio of 20:1 yielded reproducible low
14
C-PR from the 2
nd
through 5
th
cycle at all pH values studied, as described previously [
10
]. In Fig.
1A
, the logarithms of these stable
14
C-PR values are plotted against the measured aqueous phase pH values and compared with the computer-derived curve of log PR vs. pH, obtained by diazo assay of phases from partition of unlabeled UCB [
3
]. All the log
14
C-PR values but one fall within the mean ± 2 SD (± 2 × 0.382) of the log PR
diazo
. Fig.
1B
plots the difference between the log PR
diazo
and log
14
C-PR against pH. The mean difference of 0.094 ± 0.146 was not significantly different from zero. Again, only one point barely falls outside the 95% confidence limits.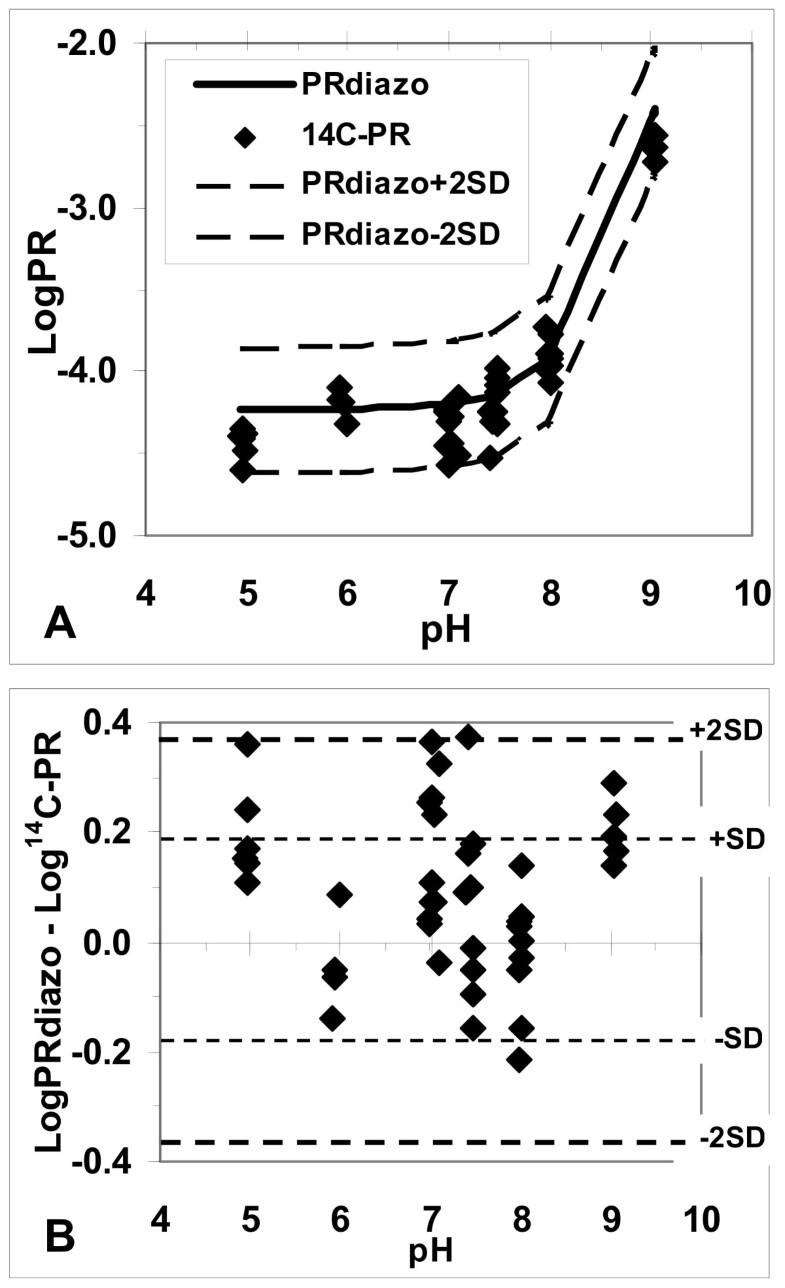 Conclusion
The present study with 14C-UCB has revalidated our prior solvent partition study, based on diazo assay of unlabeled UCB [3], and rebutted the methodological criticisms leveled at that study. In addition, we have proposed three factors, related to the internal hydrogen bonding of UCB, that, acting in concert, could reasonably be expected to increase the pKa values of the -COOH groups of UCB by about 3.5 units above the values expected for propionic acid, for which none of the three factors is operative. These rationales respond to the repeated assertion by others that there is "no precedent for such a large increase in the pKa of carboxyl groups due to internal hydrogen bonding". The complexity of the structure of UCB (Fig. 2) and the interactions discussed above, however, preclude a simple, quantitative prediction of the pKa values of UCB, or the relative importance of the three factors in affecting its ionization. Only the H-bond between the CO-OH and pyrrolic O=C-NH, groups (Fig. 2) has been discussed before in any detail for interpreting pKa values [3, 16], but we do not believe that the other two factors can be ignored. We also note the possible importance of cooperativity involved in the formation of the trio of H-bonds to the -COOH group and the possible role of the H-bonds donated to the carboxylic >C=O groups in affecting the strength of the -CO-OH|||||| O=C-NH bonds through improved geometrical fitting. Additionally, effects of the hindered solvation and restricted rotation on -COO- groups of UCB might be mitigated by the weakening or even breaking of the two -N-H||||| O=C< bonds attached to each carboxylate group (Fig. 2). These effects are likely to counter some expected strengthening of the H-bonds to the >C=O moiety of a -COO- group as compared to that of a -COOH group [28, 50], possibly leading to conformational changes in the UCB molecule on ionization, as suggested previously by Carey and Spivak [29]. A significant fraction of the dianions might even be present in a non-H-bonded form, a representation sometimes used for the dianion [51, 52]. Such changes may have important effects on the binding and self-association properties of the dianions [1].
Since the literature contains many reports, utilizing a wide variety of methods, which favor pKa values for UCB below 7.0 and even below 5.0, we are preparing an extensive review concerning the validity of the methods used in those experiments. The critique will focus especially on the purity of the UCB used, the presence of supersaturation with UCB in the systems studied, and extrapolation from results in non-aqueous solvents [53, 54]. The review will also include a critical discussion of the extremely important role of pKa values of UCB in determining its pH-dependent interactions with phospholipid vesicles [1, 55], bile salts [56, 57] and cyclodextrins[58].
List of Abbreviations
DMSO:

dimethylsulfoxide
H-bonding:

hydrogen bonding
PR:

aqueous/chloroform partition ratio
14C-PR:

PR of radioactivity
PRdiazo:

PR of diazo-reactivity
UCB:

unconjugated bilirubin.
Declarations
Acknowledgements
The authors are grateful to Lillian Celic and Cecile C. Webster for their expert performance of these experiments. Dr. Ostrow was supported by extramural research grant 2-RO1-DK-32130 from the National Institutes of Health, Bethesda, MD and by a Medical Investigator Award from the U.S. Department of Veterans Affairs.
Authors' Affiliations
(1)
Gastroenterology Section, Department of Medicine, Northwestern University Medical School, Chicago, USA
(2)
Research Service, D.V.A. Lakeside Medical Center, Chicago, USA
(3)
GI/Hepatology Division, Univ. Washington Medical Center, Seattle, USA
(4)
School of Pharmacy, University of Wisconsin, Madison, USA
Copyright
© Ostrow and Mukerjee; licensee BioMed Central Ltd. 2007
This article is published under license to BioMed Central Ltd. This is an Open Access article distributed under the terms of the Creative Commons Attribution License (http://creativecommons.org/licenses/by/2.0), which permits unrestricted use, distribution, and reproduction in any medium, provided the original work is properly cited.