Research article

Open Access
Metabolic signature of breast cancer cell line MCF-7: profiling of modified nucleosides via LC-IT MS coupling
Received: 16 August 2007
Accepted: 29 November 2007
Published: 29 November 2007
Abstract
Background
Cancer, like other diseases accompanied by strong metabolic disorders, shows characteristic effects on cell turnover rate, activity of modifying enzymes and DNA/RNA modifications, resulting also in elevated amounts of excreted modified nucleosides. For a better understanding of the impaired RNA metabolism in breast cancer cells, we screened these metabolites in the cell culture supernatants of the breast cancer cell line MCF-7 and compared it to the human mammary epithelial cells MCF-10A. The nucleosides were isolated and analyzed via 2D-chromatographic techniques: In the first dimension by cis-diol specific boronate affinity extraction and subsequently by reversed phase chromatography coupled to an ion trap mass spectrometer.
Results
Besides the determination of ribonucleosides, additional compounds with cis-diol structure, deriving from cross-linked biochemical pathways, like purine-, histidine- and polyamine metabolism were detected. In total, 36 metabolites were identified by comparison of fragmentation patterns and retention time. Relation to the internal standard isoguanosine yielded normalized area ratios for each identified compound and enabled a semi-quantitative metabolic signature of both analyzed cell lines.
13 of the identified 26 modified ribonucleosides were elevated in the cell culture supernatants of MCF-7 cells, with 5-methyluridine, N2,N2,7-trimethylguanosine, N6-methyl-N6-threonylcarbamoyladenosine and 3-(3-aminocarboxypropyl)-uridine showing the most significant differences. 1-ribosylimidazole-4-acetic acid, a histamine metabolite, was solely found in the supernatants of MCF-10A cells, whereas 1-ribosyl-4-carboxamido-5-aminoimidazole and S-adenosylmethionine occurred only in supernatants of MCF-7 cells.
Conclusion
The obtained results are discussed against the background of pathological changes in cell metabolism, resulting in new perspectives for modified nucleosides and related metabolites as possible biomedical markers for breast carcinoma in vivo.
Keywords
Nucleoside
Cell Culture Supernatant
AICAR
Polyamine Biosynthesis
Modify Nucleoside
Background
Since many of the presently applied biomedical markers are not recommended for early diagnosis and therapy surveillance of cancer (e.g. CA-15-3 and CEA in breast cancer) [1], an intensified search for more reliable diagnostic markers is required.
Beside the clinical research for characteristic biomarkers in the genomic profile (genomics) and the expressed protein pattern (proteomics), increasing interest is directed towards the end products of physiological processes represented by different metabolite classes.
The field of metabolomics deals with the fingerprint analysis of biochemical alterations among various metabolic degradation products initiated by diseases, drugs and toxins in a defined biological system [2]. Many of the key metabolic pathways are interconnected and thus perturbations – for instance caused by malignant cancer diseases – in one subset can cause implications on the others. The metabolomic approach in conjunction with its practical appliance for early diagnosis and therapy surveillance in certain diseases is to narrow down the great diversity of possible compounds to those with a huge information content for classification predictions.
Possible targets for a characteristic metabolite fingerprint associated with neoplastic cancer diseases are compounds originating from the cellular RNA metabolism and peripheral biochemical processes.
The cross-linked pathways of purine de novo biosynthesis and histidine metabolism (Fig.
1A
) contribute to the cellular ribonucleotide pool and thus the general build up of RNA molecules. The polyamine/methionine cycle is directly connected to the enzymatic modification of RNA nucleosides via the ubiquitous methyl- and propylaminodonor S-adenosylmethionine (SAM) (Fig.
1B
).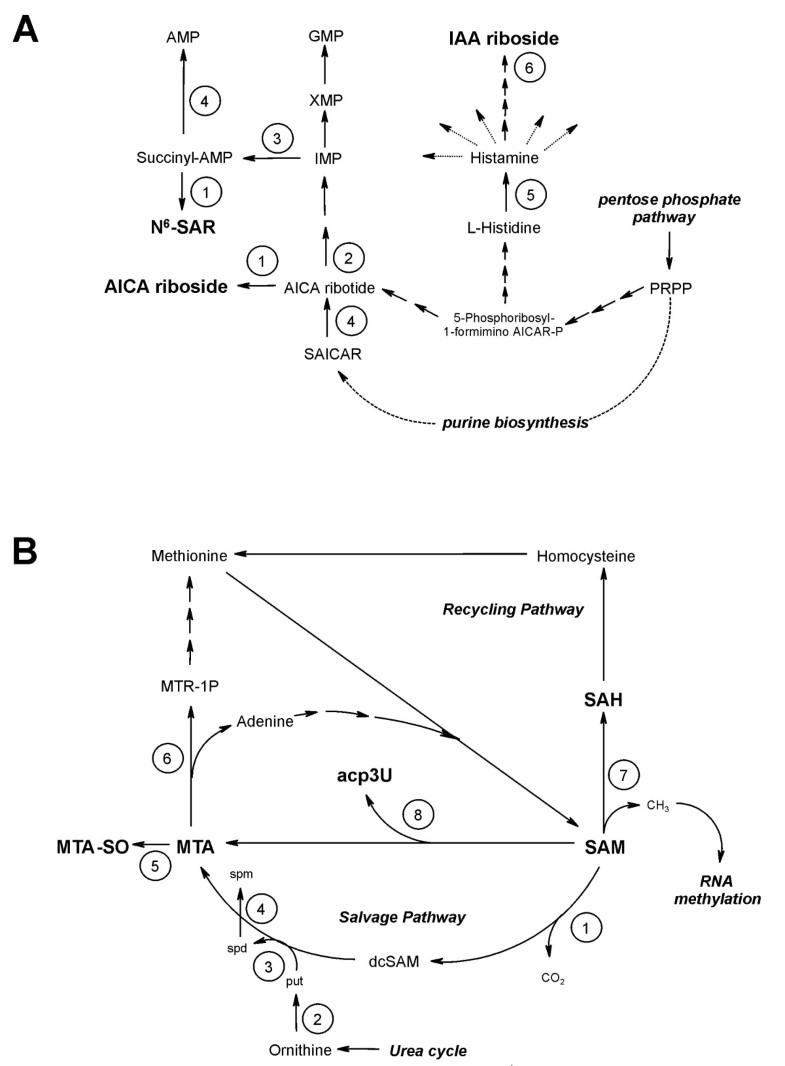 RNA contains a series of modified nucleosides in addition to the common ribonucleosides adenosine (A), guanosine (G), uridine (U) and cytidine (C). Modifications like methylation, hydroxylation, reduction, isomerization, sulfur/oxygen substitution and addition of complex side chains are implemented posttranscriptionally within the polynucleotide molecule by various modifying enzyme systems.
The major task of these modifications is thought to be the general improvement of biological activity, integrity and efficiency of RNA in various biochemical processes [3].
At present about 100 modified nucleoside structures are known to occur in different RNA types like transfer RNA (tRNA), messenger RNA (mRNA), ribosomal RNA (rRNA) and small nuclear RNA (snRNA) with tRNA being the most intensively modified (up to 25% in higher eukaryotes) [4].
During posttranslational RNA catabolism, nucleosides are released due to enzymatic hydrolysis of the polynucleotides and subsequent elimination of the phosphate moiety. The common nucleosides C, U, A and G are recycled for intracellular RNA-rebuilding in the so-called salvage pathway by stepwise re-phosphorylation to the corresponding triphosphate nucleotides.
This passage is obstructed for modified nucleosides due to the lack of specific phosphorylases. Thus they are excreted quantitatively out of the cell as metabolic end products via blood stream into the urine [5].
In cancer, RNA metabolism is impaired, which has been demonstrated by altered levels of modified nucleosides. In this context, RNA metabolites have been analyzed in several biological fluids like blood [6] and urine [7] as well as in RNA-hydrolysates [8].
It was shown that the levels of 1-methylinosine (m1I) and N2,N2-dimethylguanosine (m22G) are elevated in urine from breast cancer patients [9]. Increased amounts of modified nucleosides were also observed in urine of patients suffering from leukemia [10], gastrointestinal cancer [11] and lung carcinoma [12].
Different methods have been applied for identifying and quantifying nucleosides using high-performance liquid chromatography (HPLC) with UV detection and capillary electrophoresis (CE) [13]. Recently, the coupling of HPLC, gas chromatography or capillary liquid chromatography with mass spectrometric detection via electrospray ionization ion trap mass spectrometry (ESI-IT MS) [14], ESI tandem MS [15] and fast atom bombardment (FAB MS) [16] has been applied. ESI-TOF MS [17] and offline mass spectrometric techniques like MALDI-TOF MS [18] have proven valuable tools for the identification of nucleoside structures.
Bioinformatic methods like artificial neural network (ANN) [19], principal component analysis (PCA) [20], learning vector quantization (LVQ) and support vector machine (SVM) [21] enabled sophisticated nucleoside pattern recognitions, resulting in improved values for specificity/sensitivity and hence a more significant classification in early cancer diagnosis.
Related to metabolic profiling in blood and urine, cell culture supernatants offer the great advantage of the exclusion of subsequent interferences along the excretion pathway, e.g. enzymatic actions in the blood stream, liver and kidney as well as the falsification by bacterial metabolites. Thus, it is possible to generate unaltered metabolite patterns of cellular origin.
According to the metabolomic approach of contemplating the analyzed biological system as a whole set of more or less interconnected processes, we screened cross-linked metabolic pathways of the cellular RNA metabolism. Therefore we performed a qualitative and semi-quantitative LC-IT MS analysis of nucleosides and related metabolites (Fig.
2
) excreted by breast cancer cell cultures to get a deeper insight into properties and variations of cell metabolism at the point of origin.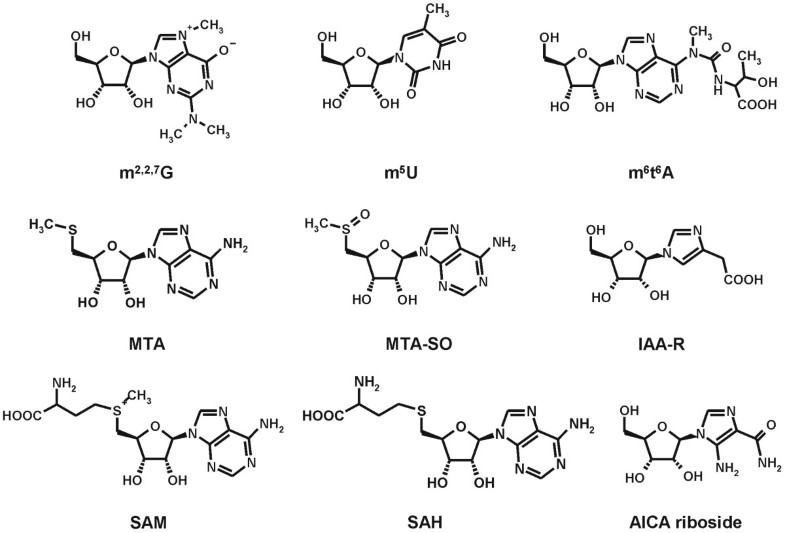 Results and Discussion
In the present study, we utilized the potentials of ion trap mass spectrometry to analyze differences in the metabolite excretion patterns of MCF-7 breast cancer cell line and MCF-10A breast epithelial cell line.
Nucleosides with a stable C-glycosidic bond like pseudouridine (Ψ) do not loose the entire sugar moiety in the first fragmentation step but show multistep water eliminations within the ribose structure.
26 nucleosides and ten additional compounds from different metabolic cell pathways were identified by comparison of fragmentation patterns and retention time to analogous standards.
1-ribosylimidazole-4-acetic acid (IAA-R) and 3-(3-aminocarboxypropyl)-uridine (acp3U) were previously identified by our research group in human urine with combined LC-IT MS and ESI-TOF MS measurements [17]. 1-ribosyl-pyridin-2-one-5-carboxamide (2,5-PCNR) was identified by MALDI-TOF MS analysis [18].
Conclusion
In the present study, we applied LC-IT MS analysis as a valid tool for biochemical investigations of altered metabolic pathways in breast cancer cell lines. To the authors' best knowledge, this is the first time that patterns of modified nucleosides and related, ribosyl-conjugated metabolites were analyzed in cell culture supernatants of MCF-7 and MCF-10A cells, both well-defined models in malignant and healthy mammary cells, respectively. We observed remarkable differences in the compared metabolic signatures, concerning modified nucleosides, metabolites deriving from the polyamine/methionine cycle as well as compounds from the purine de novo biosynthesis and the histidine metabolism. The discussed metabolic pathways are all involved in the development of malignant cancer diseases.
The obtained data justify a more detailed investigation of metabolic profiles as possible tool to improve prognosis and prediction in diseases like breast cancer. As they are indicators for a changed phenotype in diseased cells, metabolite patterns in body fluids like urine and blood will influence future studies towards a potential non-invasive diagnostic system in early breast cancer.
Methods
Cell culture
Breast cancer cell lines were purchased from the American Type Culture Collection (ATCC, Manassas (VA), USA) and cultivation was performed using the recommended media. MCF-7 breast cancer cells (ATCC: HTB-22) were grown in RPMI 1640 basal medium (Biochrome, Berlin, Germany)/10% fetal calf serum (FCS; Biochrome)/1% Penicillin-Streptomycin (Biochrome)/HEPES (Invitrogen, Karlsruhe, Germany). MCF-10A breast epithelial cells (ATCC: CRL-10317) were cultivated in Mammary Epithelial Cell Basal Medium (Promocell, Heidelberg, Germany)/Supplement Pack Mammary Epithelial Cell Growth Medium containing bovine pituitary extract, human epidermal growth factor (EGF; recombinant), bovine insulin, and hydrocortisone (Promocell)/-1% Penicillin-Streptomycin (Biochrome)/Choleratoxin (List Biological Laboratories, Campbell, CA, USA).
In detail, 1 × 106 cells each were seeded in four plastic flasks and grown in complete medium at 37°C/5% CO2 for four days. Then the number of cells was determined by trypsinizing the cells in one flask and counting the viable cells using a counting chamber. In the other three flasks medium was changed to basal medium without additives or fetal calf serum (FCS contains nucleosides itself and would thus lead to false results). After four days of culture the supernatant was collected and cleared from cell debris by applying centrifugal force at 3000 rpm for 10 min. The cleared supernatant was frozen at -20°C until further analysis. The averaged number of cells was equal in both MCF-10A and MCF-7 samples and enabled the direct semi-quantitative comparison of the two analyzed cell lines.
MCF-7 cell line
The MCF-7 cell line is the most widely used and best characterized of all the human breast cancer cell lines. MCF-7 was isolated from the pleural effusion of a postmenopausal 69 years adult Caucasian woman. The patient had received radiotherapy and endocrine therapy before the appearance of effusion [54]. The estradiol-dependence for growth, antiestrogen sensitivity, and low metastatic potential of MCF-7 cells has led to the hypothesis that they represent an early epithelial adenocarcinoma of the breast [55]. The MCF-7 line retains several characteristics of differentiated mammary epithelium including the ability to process estradiol via cytoplasmic estrogen receptors ER) and the capability of forming domes. Its hormone receptor status is ERα-, ERβ- and progesterone receptor (PR)-positive. MCF-7 cells are an excellent model in which to study the process of malignant progression, because they can be subjected to appropriate endocrinologic and physiologic selective pressures for the derivation of variants with more progressed phenotypes. For example, variants have been selected for antiestrogen resistance. MCF-7 cells lack methylthioadenosine phosphorylase (MTAP) activity, the key enzyme in the methionine salvage pathway [56].
MCF-10A cell line
Soule et al have described a spontaneously immortalized "normal" human breast epithelial cell line (MCF-10) [57]. These cells were isolated from mastectomy tissue obtained from a premenopausal 36 years old Caucasian patient with fibrocystic disease. After 849 days in culture, a population designated MCF-10A was established. The MCF-10A cells resemble luminal epithelial cells rather than myoepithelial cells, and express antigens for several keratins and epithelial sialomucins [58]. The cells are nontumorigenic in nude mice and do not exhibit anchorage-independent growth. Thus far, the cells have shown no signs of terminal differentiation or senescence. The line is responsive to insulin, glucocorticoids, cholera endotoxin and EGF. Its hormone receptor status is ERα- and PR negative.
Chemicals
We used methanol LiChroSolv, hypergrade, purchased from Merck/VWR (Darmstadt, Germany) for liquid chromatography. Water was taken from an in-house double distillation system. All other chemicals used were of analytical grade.
The standards used as reference for HPLC separation and compound identification in cell culture supernatants were DHU, Ψ, C, U, A, m1A, m6A, I, m1I, G, m3C, 5-methylcytidine (m5C), m1G, N2-methylguanosine (m2G), m22G, m3U, m5U, X, N4-acetylcytidine (ac4C), t6A, m2,2,7G, MTA, AICA riboside, SAM, SAH, nicotinamide (base standard for MS3 fragmentation comparison with NA-R), imidazole-4-acetic acid (sodium salt, base standard for MS3 fragmentation comparison with IAA-R) and adenylosuccinic acid (sodium salt, base standard for MS3 fragmentation comparison with N6-succinyloadenosine (N6-SAR).
All standards were from Sigma (Taufkirchen, Germany) except m22G, m2,2,7G and t6A which were obtained from Biolog (Bremen, Germany). The internal standard isoguanosine was kindly donated by Prof. J.H. Kim of Seoul University, South Korea.
Affigel boronate was purchased from Biorad (Richmond, USA).
Extraction of nucleosides and structurally related compounds from cell culture supernatants
Previous to the HPLC separation, the metabolites were isolated from cell culture supernatants by cis-diol specific affinity chromatography using phenylboronic acid gel. This method was developed by Liebich et al in 1997 [59]. 10 ml of cell culture supernatants were spiked with 100 μl of internal standard solution (0.25 mM isoguanosine), alkanalized to pH 8.8 with 2,5% ammonia solution and then put on the column (500 mg Affigel boronate, column dimensions: 150 × 15 mm). Nucleosides and structurally related compounds are bound reversibly and specifically at the cis-diol group contained in the ribose structure. After washing with 25 mL ammonium acetate solution (0.25 mM, pH 8.8) and 6 ml methanol/water (1:1, v/v), elution was carried out with 50 mL 0.2 M formic acid in methanol/water (1:1, v/v). The solvent was removed using a rotary evaporator and the nucleosides were dissolved again in 0.5 ml ammonium formate solution (5 mM, pH 5). 10 μL of the residues were injected into the HPLC-MS system.
Instrumentation
The chromatographic separation of the nucleosides was performed on an Agilent 1100 Series HPLC system (Agilent, Waldbronn, Germany) consisting of a Solvent Degasser (G 1379 A), a binary capillary pump (G 1389), an autosampler (G 1313 A), a column oven (G 1316 A) and a DAD (G 1315 B). The chromatographic system consisted of a Merck LiChroCART Superspher 100 RP-18 endcapped column (125 × 2.0 mm i.d., 4 μm (Merck, Darmstadt, Germany)) and a solvent gradient of 5 mM ammonium formate buffer, pH 5.0, and methanol/water (3:2, v/v)+0.1% formic acid. The column was operated at 25°C. The flow rate was set to 125 μl/min using a gradient as described by Kammerer et al.[14].
The LC system was coupled to an Ion Trap mass spectrometer. We used a Bruker Esquire HCT-Ion Trap (Bruker Daltonics, Bremen, Germany) equipped with an ESI source in positive ion mode for detection.
The capillary voltage was set to 4 kV, the dry temperature in the electrospray source was 350°C, the nebulizer gas was set to 45 psi and the dry gas to 9.0 l/min. The data were acquired in standard enhanced scan mode (8,100 m/z per second) in a mass range of 200–600 Da.
We performed auto LC-MS3 runs for compound identification by fragmentation pathway and retention time and a LC-MS method without fragmentation processes for semi-quantitative metabolite pattern analysis.
In the latter case, Extracted Ion Chromatograms (EIC) were generated by addition of [M+H+], [M+Na+] and [M+K+] traces to normalize fluctuating alkali-contamination in the samples and the LC-MS system in the course of analysis.
Data were acquired by Bruker EsquireControl version 5.1. For post processing, Bruker DataAnalysis version 3.1 was used.
Declarations
Acknowledgements
The authors thank K. Geiger and U. Hilcher for technical support.
Authors' Affiliations
(1)
Department of Pharmacology and Toxicology, Division of Clinical Pharmacology, University Hospital Tübingen, Tübingen, Germany
(2)
Department of Obstetrics and Gynecology, University Hospital Tübingen, Tübingen, Germany
(3)
Institute of Pharmacy, University of Tübingen, Tübingen, Germany
Copyright
© Bullinger et al; licensee BioMed Central Ltd. 2007
This article is published under license to BioMed Central Ltd. This is an Open Access article distributed under the terms of the Creative Commons Attribution License (http://creativecommons.org/licenses/by/2.0), which permits unrestricted use, distribution, and reproduction in any medium, provided the original work is properly cited.