Research article

Open Access
Multiple phosphorylation events control mitotic degradation of the muscle transcription factor Myf5
Received: 05 August 2005
Accepted: 01 December 2005
Published: 01 December 2005
Abstract
Background
The two myogenic regulatory factors Myf5 and MyoD are basic helix-loop-helix muscle transcription factors undergoing differential cell cycle dependent proteolysis in proliferating myoblasts. This regulated degradation results in the striking expression of these two factors at distinct phases of the cell cycle, and suggests that their precise and alternated disappearance is an important feature of myoblasts, maybe connected to the maintenance of the proliferative status and/or commitment to the myogenic lineage of these cells. One way to understand the biological function(s) of the cyclic expression of these proteins is to specifically alter their degradation, and to analyze the effects of their stabilization on cells. To this aim, we undertook the biochemical analysis of the mechanisms governing Myf5 mitotic degradation, using heterologous systems.
Results
We show here that mitotic degradation of Myf5 is conserved in non-myogenic cells, and is thus strictly under the control of the cell cycle apparatus. Using Xenopus egg extracts as an in vitro system to dissect the main steps of Myf5 mitotic proteolysis, we show that (1) Myf5 stability is regulated by a complex interplay of phosphorylation/dephosphorylation, probably involving various kinases and phosphatases, (2) Myf5 is ubiquitylated in mitotic extracts, and this is a prerequisite to its degradation by the proteasome and (3) at least in the Xenopus system, the E3 responsible for its mitotic degradation is not the APC/C (the major E3 during mitosis).
Conclusion
Altogether, our data strongly suggest that the mitotic degradation of Myf5 by the ubiquitin-proteasome system is precisely controlled by multiple phosphorylation of the protein, and that the APC/C is not involved in this process.
Keywords
Hyperphosphorylated Form
Xenopus Extract
Slow Migrate Form
Mitotic Extract
Lambda Phosphatase
Background
Terminal differentiation of skeletal muscle is orchestrated by the family of myogenic regulatory factors (MRFs), which contains Myf5, MyoD, myogenin and MRF4 (for review see [1, 2]). These factors activate muscle-specific gene transcription, by binding specific DNA sequences (E-boxes) as heterodimers with ubiquitous E2A proteins such as E12 and E47, in cooperation with MEF2 family of MADS-box proteins (reviewed in [3]). They have first been characterized for their ability to convert certain non muscle cells into myoblasts after ectopic expression, a process known as "myogenic conversion" [4, 5]. Among MRFs, MyoD and Myf5 are usually considered as "determination factors" since they are required for formation of skeletal muscle [6], and expressed at the proliferating myoblast stage, in contrast to myogenin that is induced as cells undergo cell cycle arrest, and MRF4 that is involved in myotube maturation [7]. However, recent data have shown that MRF4 is also expressed at early stages of muscle development, and can act upstream of MyoD and Myf5 [8].
Interestingly, MyoD bears intimate functional relationships with the cell cycle apparatus (reviewed in [9]): its transcriptional activity and stability are regulated by cyclin/CDK complexes [10–13], and it can repress cell cycle activators by physical interaction [14] or by activating expression of cell cycle inhibitors [15]. Regarding Myf5, despite numerous observations about the regulation of its gene and expression pattern during embryonic development [7, 16], little is understood about its functions, probably due in large part to its redundancy with MyoD [6].
However, very intriguingly, in cultured myoblasts (C2 cells or primary myoblasts), intracellular protein levels of Myf5 and MyoD exhibit opposite cell-cycle fluctuations at the proliferative stage [17], with the result that, during the early G1 phase of the cell cycle, MyoD levels are high and Myf5 levels low, whereas the opposite is true at G2. Since fusion of myoblasts into myotubes occurs during G1 phase, an attractive hypothesis is that the MyoD/Myf5 ratio is an important determinant in myoblasts for the decision process between proliferation or differentiation. In this model, MyoD and Myf5 are more than muscle determination factors, and act in myoblasts as regulators of the proliferation/differentiation interface. Possibly connected to this hypothesis, it is interesting to note that, in cell culture, myoblast differentiation results in two distinct populations: a majority of plurinucleated myotubes that contain high levels of MyoD, but no Myf5, and a minority of quiescent cells, assimilated to "reserve cells", that contain Myf5 but no MyoD [17, 18].
Several studies have demonstrated that the cell cycle variations of MyoD and Myf5 levels involve their specific and regulated proteolysis by the proteasome. MyoD degradation at the end of the G1 phase is promoted by its phosphorylation by the CyclinE/CDK2 complex [11, 12, 19]. Regarding the mechanisms of Myf5 accelerated degradation at the G2/M transition and throughout mitosis, much less is known, although it coincides with the phosphorylation of the protein [20], and seems to depend on the integrity of a Destruction-box (D-box) domain [21].
To test the hypothesis that the cyclic and alternated degradation of MyoD and Myf5 is not a simple consequence of proliferation, but an important event in the control of the proliferation/differentiation interface, we decided to specifically interfere with the mitotic degradation of Myf5 in order to gain insights into the biological role of this process. To this aim, the purpose of the present work was to initiate the characterization of the mechanisms regulating Myf5 mitotic degradation. Since in muscle cells the differentiation process and the cell cycle are tightly connected, we chose to use non-muscle experimental systems in which Myf5 mitotic degradation is conserved and can be studied in a cell cycle-dependent but differentiation-independent manner. We show that in Xenopus egg extracts, which are widely used to study mitosis-specific processes, Myf5 mitotic degradation occurs through a ubiquitin- and proteasome-dependent mechanism, in a manner tightly controlled by its phosphorylation, but independent of APC/C activity. Myf5 phosphorylation is itself dependent on the activity of several kinases and phosphatases, and thus depends on a delicate balance between these activities that finely tunes Myf5 stability.
Discussion
The striking differential cell cycle-regulated degradation of both MyoD and Myf5 in proliferating myoblasts suggests that these two proteins, albeit homologous and partially redundant, carry out specific functions that must be turned down at a specific cell cycle stage. Physical and functional interactions of MyoD with cell cycle regulators, that impinge on the proliferation/differentiation interface in myoblasts, show that certain of these functions are interfering with cell cycle progression and suggest that, at least for MyoD, its cyclic degradation is required for maintenance of the proliferative status of the cells. For Myf5, much less is known, but it is likely that the same rationale can be followed, i.e. that its accelerated degradation at the late G2/M phase of the cell cycle is required for progression through subsequent phases.
Nature of the E3 responsible for Myf5 mitotic ubiquitylation
A strong argument in favor of an involvement of APC/C in Myf5 mitotic degradation was that Myf5 contains in its sequence a putative D-box motif, the mutation of which partially stabilizes Myf5 in mitotic cells, but not in interphase cells [21]. However, this degradation did not depend on UbcH10, the E2 known to function with APC/C, and the timing of degradation of Myf5 appeared different from that of known substrates of the APC/C: when examined in individual cells, Myf5 was always degraded before cyclin B, but the timing of its degradation relative to that of cyclin A appeared highly variable [21]. In addition, it is noteworthy that ubiquitylation of known substrates of the APC/C is not regulated by phosphorylation of the substrate [43]; the fine temporal tuning of ubiquitylation is rather controlled by post-translational modifications of the APC/C itself, respectively the core complex [44] or its activators [45], which modulate the activity of the E3. Altogether, the involvement of APC/C in Myf5 mitotic degradation remained an open issue.
Since mitotic degradation events are usually conserved between cells and organisms, the Xenopus egg extract system has been widely used to dissect these events and particularly to study the functions of APC/C [36, 46, 47]. To resolve the dilemma relative to the possible involvement of APC/C in the mitotic degradation of Myf5, we tested whether this complex is important for Myf5 mitotic degradation in Xenopus extracts. We found by two different approaches that APC/C does not participate to the ubiquitylation of Myf5 in Xenopus egg extracts. This result raises two questions. The first is whether the Xenopus system is representative of other cells and particularly myoblasts as far as Myf5 mitotic degradation is concerned. At this point, we believe that there is no reason to doubt it, as it would be a surprise if Myf5 was degraded in this system in a mitotic-dependent but different manner to that in cultured cells. Since the mechanisms controlling mitosis are conserved in higher eukaryotes, the frog system has been central for the understanding of many mechanisms controlling mitosis (including the discovery of APC/C) and, up until now, most data obtained with Xenopus egg extracts for APC/C substrates have been confirmed in other systems. But obviously a definitive conclusion on the role of APC/C in Myf5 degradation will require further studies in myoblasts. The second question is why, if APC/C is not important for Myf5 mitotic degradation, the Destruction-box mutants of Myf5 were specifically stabilized in cells during mitosis [21]. We are presently not able to answer this question, but several observations on this issue may be important. First, the D-box is a loosely conserved motif that can be found in many proteins, and several examples show that it cannot be automatically assimilated to a signature for targeting to the APC/C (see for example [40]). Thus, Myf5 D-box could be important for Myf5 mitotic degradation without actually acting as a genuine D-box motif. Second, there are several degradation pathways acting on Myf5 in cells, and one cannot exclude that the Destruction-box mutants of Myf5 interfere with other systems than the strictly mitotic pathway. In support of this notion, it is important to note that these mutants are only partially stabilized in mitotic cells: their further stabilization by proteasome inhibitors indeed indicates that proteasomes are still actively degrading these mutants in mitotic cells [21]. Moreover, we found no stabilization of these mutants in Xenopus egg extracts (data not shown), which, as shown by the absence of degradation of Myf5 in interphase, seem to possess only the mitotic pathway acting on Myf5. Third, because the D-box motif of Myf5 is adjacent to the DNA binding domain, these mutants have a decreased affinity for DNA as compared to the wild type protein [48]. Since binding to DNA and presence of various partners have been shown to alter MyoD degradation [49, 50], it is possible that conformational changes induced by mutations in the D-box motif of Myf5 impact on its mitotic degradation by indirect ways.
Altogether, we believe that our data in Xenopus are a solid, albeit non definitive, argument in favor of the non-involvement of APC/C in Myf5 mitotic degradation. Interestingly, there are up to now few substrates known to be degraded in mitosis by the ubiquitin proteasome pathway, and whose ubiquitylation is not due to the APC/C [51]. The high incidence of the phosphorylation status of Myf5 on its ubiquitylation and degradation suggests that an E3 from the SCF family of complexes could be involved [43, 52]. Since few tools are available to study SCF complexes in Xenopus egg extracts, we are currently analyzing the potential involvement of these complexes in Myf5 ubiquitylation using mammalian systems.
Control of Myf5 degradation by phosphorylation
Based on the homology of Myf5 to MyoD, we expected a simple mechanism in which a unique phosphorylation would trigger Myf5 mitotic degradation. Indeed phosphorylation of MyoD on its serine 200 by the CDK2/cyclin E kinase has been shown to be critical to entail rapid degradation of this protein at the end of the G1 phase of the cell-cycle [12]. However, although this simple scenario cannot be excluded at the moment, our results on the mechanisms controlling Myf5 stability are drawing a much more complex picture.
We found a significant degree of variability from extract to extract in the phosphorylation status of Myf5, that prevented us from obtaining clear conclusions on the nature of the kinase(s) controlling Myf5 ubiquitylation and degradation. We believe that some of the problems were due to the origin of the substrate we used. Indeed, there is a clear interference in this assay of kinases present in the reticulocyte lysate in which Myf5 was translated, and we observed a variability between different lysates that was likely to contribute to the difficulty of obtaining solid conclusions. However, attempts to translate Myf5 in other systems derived from wheat-germ or E. coli, or to co-translate the Myf5 partner E12 did not fundamentally solve the problem of variability.
We thus think that the problem resides elsewhere, in the complexity of Myf5 phosphorylation that makes the degradation of this protein extremely sensitive to the kinase/phosphatase equilibrium of the extracts. The concordant picture arising from all our attempts to modify Myf5 stability in Xenopus egg extracts, either by inhibition of kinases or phosphatases or by single mutations of the S/TP sites of Myf5, is that several enzymes impinge on Myf5 phosphorylation status and thus Myf5 stability, and that Myf5 ubiquitylation apparently requires phosphorylation on multiple sites. However, although most S/TP sites of Myf5 seem phosphorylated in mitotic extracts, as their mutation affects Myf5 migration in gel, none of these sites seems to be absolutely necessary for efficient degradation of the protein. This could suggest that it is phosphorylation itself or, by analogy with data obtained for the CDK inhibitor Sic1 [30, 31], the number of phosphorylated residues rather than their identity that is the important parameter for Myf5 ubiquitylation.
An unexpected result in our experiments was the observation that a phosphorylated form of Myf5 was completely resistant to degradation. Because this form was the latest phospshorylated form to appear and the slowest migrating in gel, we called it the hyperphosphorylated form of Myf5. This terminology is coherent with the observation that Myf5 apparently escapes degradation only when it is fully phosphorylated. However at this point we cannot exclude that a single phosphorylation event is responsible for both Myf5 stabilization and shift to the slowest migrating form. An important question is whether the stabilizing hyperphosphorylation of Myf5 exists in cells and particularly in myoblasts. A possibility is that this hyperphosphorylation is not a standard process seen at each cell cycle, but a regulated mechanism occurring only in certain physiological situations. Alternatively, as it has been suggested recently for MyoD [13], such a mechanism could allow a low amount of Myf5 to be preserved during passage through mitosis, in order for the cell to be able to mobilize it immediately after completion of cell division.
Conclusion
In this article, we describe the work we performed using the
Xenopus
egg extract system to better define the mechanisms that control Myf5 degradation in mitosis. Altogether, our data are in favor of the following model (figure
8
): in mitotic extracts, Myf5 is phosphorylated on numerous residues. Some of these residues, once phosphorylated, are recognized by an E3, distinct from APC/C, that mediates Myf5 polyubiquitylation, targeting it to the proteasome for degradation. However, when Myf5 is fully phosphorylated, it somehow escapes degradation and is stabilized. In such a model, phosphorylation of Myf5 is necessary for its mitotic ubiquitylation, but can also be used to stabilize the protein. Thus the stability of the protein can be finely tuned by differential activation of various signaling pathways, providing a precise and rapid way to adapt Myf5 levels in cells in function of the cell cycle stage.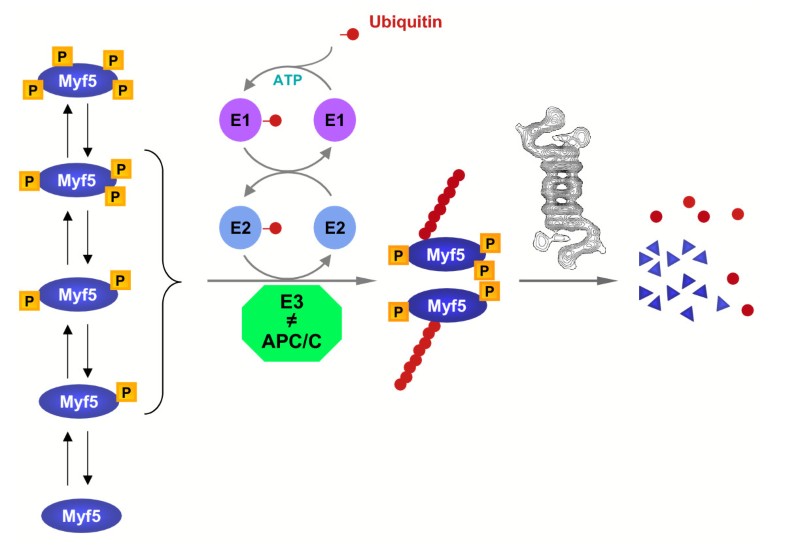 Methods
Cell culture and lysates
HeLa-S3 cells expressing mouse Myf5 (UN6 clone) under an inducible promoter (tet-off) are usually cultured in DMEM containing 10% FCS (Cambrex), 1000 U/ml penicillin/streptomycin, 2 mM L-Glutamine, 500 μg/ml G418, 170 U/ml hygromycin B and 1 μg/ml tetracycline. Expression of Myf5 is induced for 24 hours by washing the cells three times with PBS and adding fresh medium without tetracycline. To prepare lysates, cells are scraped in cold PBS and centrifuged for 10 min at 1000 rpm. The pellet is then resuspended in about 5 pellet volumes of 20 mM Tris pH 7.5, 137 mM NaCl, 10% glycerol, 1% NP40, 1 mM orthovanadate, 20 mM NaF, protease inhibitor mix (Complete, Roche-Boehringer), and incubated for 30 min on ice, while vortexing every 5 min. The lysate is then centrifuged for 8 min at 16000 × g. The supernatant is removed and protein concentration is measured using BSA as a standard (Bradford Reagent Assay, Pierce).
Xenopus egg extracts
Mitotic extracts are prepared by gently crushing oocytes arrested in metaphase of meiosis II, with CDK1/cyclin B kinase activity maintained at a high level by cytostatic factor (CSF); these extracts, called CSF extracts, thus reproduce a pseudo-mitotic state. When eggs are fertilized, penetration of sperms induces a calcium wave that inactivates CSF activity and triggers cyclin B degradation, and CDK1 activity rapidly declines to an interphase level (reviewed in [53]). A synchronous release from CSF arrest can be artificially induced by activating the eggs with calcium ionophore treatment. To prepare extracts, eggs are dejellied in a solution containing 2% L-Cystein (pH 7.5), then washed extensively in XB Buffer (100 mM KCl, 0.1 mM CaCl2, 1 mM MgCl2, 10 mM HEPES pH 7.7, 50 mM Sucrose) supplemented with 6 mM EGTA and lysed by centrifugation for 20 min at 16000 × g. The supernatant (except the floating lipidic phase) is removed and supplemented with an ATP regenerating system (1.25 mM ATP, 1.25 mM MgCl2, 1.9 mM Creatine Phosphate, 6.25 μg/ml Creatine Phosphokinase), leupeptin (25 μg/ml) and cytochalasin B (25 μg/ml). After centrifugation for 20 min at 16000 × g, the supernatant is removed, aliquoted and frozen in liquid nitrogen. Frozen aliquots are kept at -80°C for several weeks. For interphase extracts, eggs were dejellied as described above, then activated by calcium ionophore and incubated for 10 minutes in XB containing 10 μg/ml cycloheximide (SIGMA-ALDRICH). Eggs were then lysed as described above.
In vitro production of [35S] methionine-labeled proteins
Human cyclin B, mouse Myf5 and frog Xkid purified plasmids are transcribed and translated in vitro in the presence of L-[35S]-methionine (Amersham, Redivue mix) in rabbit reticulocyte lysates, following manufacturer's instructions (Promega TNT Quick coupled system), then loaded on pre-equilibrated (Tris-HCl 20 mM, pH7.5) Biospin6 columns (BioRad), in order to eliminate non-incorporated radioactive methionine. The dephosphorylated form of Myf5 is obtained by incubating freshly translated Myf5 with alkaline phosphatase linked to agarose beads (SIGMA-ALDRICH) for 30 min at 37°C. The mix is then loaded on BioSpin6 columns as above to remove both the beads and the excess radioactive methionine.
In vitro degradation and ubiquitylation assays
For degradation assays, 18 μl of mitotic or interphase extracts are usually mixed with 2 μl of reticulocyte lysate containing the radioactive (in vitro translated) substrate and are further incubated at 25°C. At appropriate time points, 2 μl samples are subjected to SDS-PAGE (10% gels) analysis. Gels are then dried, exposed and the radioactive bands are quantified using a PhosphoImager (Molecular Dynamics). Ubiquitylation assays are performed in the presence of 200 μM MG132 (BioMol), 5 μM Ubiquitin aldehyde (BioMol), 1 mg/ml Ubiquitin (SIGMA-ALDRICH), 5 mM MgCl2 and 1 mM ATPγS. Lysineless mutant ubiquitin (UbK0) is purchased to Boston Biochem.
Purification of Myf5 E3
A mitotic extract is diluted twice in buffer A (20 mM Tris pH7.5, 1 mM DTT) supplemented with 1% Igepal CA-630 (Sigma), then incubated for 15 min at 4°C with the same volume of AffigelBlue DEAE beads (BioRad) pre-equilibrated in buffer A + 0.5% Igepal. The beads are then extensively washed with a large excess of buffer A containing 0.5% Igepal, then with buffer A only. Myf5 E3 activity is eluted with buffer A containing 0.25 M NaCl. This fraction is directly loaded on a UnoQ1 or a UnoQ12 column (BioRad) pre-equilibrated with buffer A containing 0.2 M NaCl. A gradient from 0.2 M to 0.5 M of NaCl is applied to the column, and Myf5 E3 activity is eluted at a concentration of approximately 0.3 M NaCl. The fractions obtained from the different columns are screened for their ability to ubiquitylate radiolabeled Myf5 in the presence of the ubiquitylation enzymes E1 (Xenopus, 50 ng), E2 (recombinant UBCH5B, 0.5 μg), purified recombinant GST-Ub (1 mg/ml) or ubiquitin (1 mg/ml), 1 mM ATP, 5 mM MgCl2, 5 μM ubiquitin aldehyde, 200 μM MG132, 20 mM Tris pH7.5. Ubiquitylation reactions are performed with 1 μl of radiolabeled Myf5, 6 μl of each fraction, in a final volume of 10 μl, and incubated for 30 min at 25°C. After appropriate incubation time, the reaction is stopped by addition of sample buffer, and the samples are analyzed by electrophoresis and PhosphoImaging.
Antibodies
Anti-Myf5 (C-20, Santa Cruz) is diluted 1:1000 for Western Blotting. Secondary anti-rabbit-HRP (Amersham) is diluted 1:10000. APC/C immuno-precipitations are realized with a home-made affinity-purified anti-Cdc27 [46].
Declarations
Acknowledgements
We thank the members of our laboratory for their continuous support and their helpful discussions. We are especially grateful to G. Carnac, A. Fernandez and S. Leibovitch for their suggestions and criticisms. We acknowledge the undergraduate students (T. Petit, L. Americh, O. Cexus, C. Vernet and D. Latreille) who participated to this work at various stages. This work has been supported by grants from the "Association Française contre les Myopathies" (AFM) and the European contract n°QLG1-CT-2001-02026. CD is the beneficiary of fellowships from the French Ministry of Research and the Fondation pour la Recherche Médicale (FRM).
Authors' Affiliations
(1)
Centre de Recherches de Biochimie Macromoléculaire (CRBM), CNRS FRE, Montpellier, France
(2)
Burnham Institute for Medical Research, La Jolla, USA
(3)
Wellcome Trust/Cancer Research UK, Gurdon Institute, Cambridge, UK
(4)
Celogos/Institut Pasteur, Paris, France
Copyright
© Doucet et al; licensee BioMed Central Ltd. 2005
This article is published under license to BioMed Central Ltd. This is an Open Access article distributed under the terms of the Creative Commons Attribution License (http://creativecommons.org/licenses/by/2.0), which permits unrestricted use, distribution, and reproduction in any medium, provided the original work is properly cited.