Research article
Open Access
Color transitions in coral's fluorescent proteins by site-directed mutagenesis
Received: 4 May 2001
Accepted: 10 July 2001
Published: 10 July 2001
Abstract
Background
Green Fluorescent Protein (GFP) cloned from jellyfish Aequorea victoria and its homologs from corals Anthozoa have a great practical significance as in vivo markers of gene expression. Also, they are an interesting puzzle of protein science due to an unusual mechanism of chromophore formation and diversity of fluorescent colors. Fluorescent proteins can be subdivided into cyan (~ 485 nm), green (~ 505 nm), yellow (~ 540 nm), and red (>580 nm) emitters.
Results
Here we applied site-directed mutagenesis in order to investigate the structural background of color variety and possibility of shifting between different types of fluorescence. First, a blue-shifted mutant of cyan amFP486 was generated. Second, it was established that cyan and green emitters can be modified so as to produce an intermediate spectrum of fluorescence. Third, the relationship between green and yellow fluorescence was inspected on closely homologous green zFP506 and yellow zFP538 proteins. The following transitions of colors were performed: yellow to green; yellow to dual color (green and yellow); and green to yellow. Fourth, we generated a mutant of cyan emitter dsFP483 that demonstrated dual color (cyan and red) fluorescence.
Conclusions
Several amino acid substitutions were found to strongly affect fluorescence maxima. Some positions primarily found by sequence comparison were proved to be crucial for fluorescence of particular color. These results are the first step towards predicting the color of natural GFP-like proteins corresponding to newly identified cDNAs from corals.
Keywords
Green Fluorescent ProteinCyanGreen EmitterYellow FluorescenceCyan Fluorescent Protein
Background
Since the introduction of Green Fluorescent Protein (GFP) into biotechnology many attempts have been made to change its fluorescence color by means of mutagenesis. Finally, only two positions on protein sequence were demonstrated to considerably influence emission maximum [1,2,3]. First, a replacement of fluorophore's Tyr-66 with any aromatic residue (Trp, Phe, or His) results in a strong blue shift of emission up to λmax = 442 nm [4, 5]. Second, a substitution S203Y,H leads to a red shift of fluorescence up to λmax = 529 nm [6]. These blue and yellow mutants (called BFP and YFP respectively) proved to be extremely handy for multicolor labeling and FRET-based applications.
Recently we have isolated several GFP-like proteins that determine fluorescent or non-fluorescent body color in corals Anthozoa [7,8,9]. Absorption-emission maxima of these proteins are distributed loosely along the wavelength axis. These proteins fall into four groups: cyan (~ 485 nm), green (~ 505 nm), yellow (~ 540 nm), and red (>580 nm) emitters. Obviously, understanding the relation between protein structure and its fluorescent properties is of great scientific and practical importance. However, in spite of the abundance of sequences available, it is difficult to determine amino acid positions that are responsible for a particular type of fluorescence.
In present work, site-directed mutagenesis was used to change the emission color of some
Anthozoa
fluorescent proteins (FP). To search presumptive amino acid positions important for particular color we compared sequences of FP belonging to the different groups. Special attention was focused on positions that are probably lie in the close proximity of fluorophore. We checked several suspicious positions and found some substitutions that affected fluorescence maxima. To simplify discussion, we used amino acid numbering in accordance with GFP (see alignment in Fig.
1
).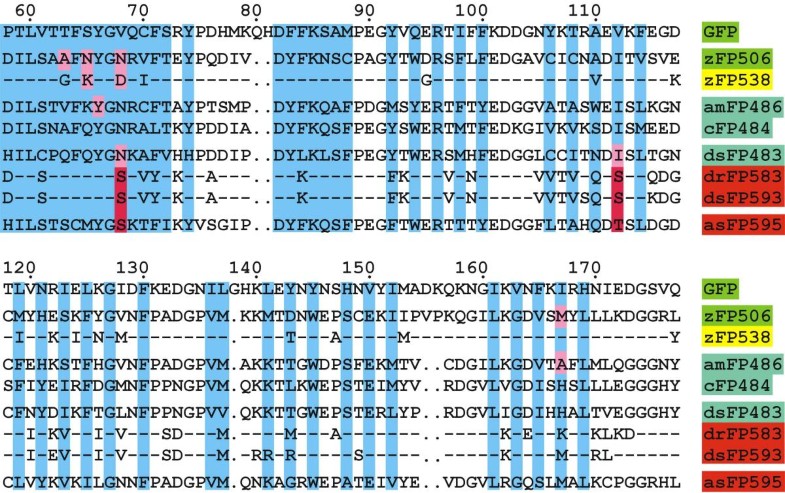 Materials and Methods
Site-directed mutagenesis was performed by PCR using the overlap extension method, with primers containing appropriate target substitutions [17]. All mutants were cloned into pQE30 vector (Qiagen) using BamHI and SalI restriction sites. Recombinant proteins contained 6xHis tag on N-terminus. E. coli clones were grown at 37°C in 50 ml to an optical density of (OD) 0.6. At that point, the expression of recombinant FP was induced with 0.2 mM IPTG. The cultures were then incubated overnight. The following day, cells were harvested by centrifugation, resuspended in buffer (20 mM Tris-HCl, pH 8.0; 100 mM NaCl), and disrupted by sonication. Fluorescent proteins were purified from the soluble fraction using TALON Metal Affinity Resin (CLONTECH). Proteins were at least 95% pure according to SDS-PAGE. Perkin-Elmer LS50B spectrometer was used for spectral measurements of the purified fluorescent proteins diluted in buffer (20 mM Tris-HCl, pH 8.0; 100 mM NaCl) up to about 50 μg/ml. The excitation and emission slits were set at 5 nm. The spectra were corrected for photomultiplier response and monochromator transmittance.
Declarations
Acknowledgments
We are grateful to M. V. Matz for fruitful discussion, M. E. Bulina for the help in the manuscript preparation, and S. J. Remington and R. Y. Tsien for communication of data prior to publication. This work was supported by CLONTECH Laboratories Inc. and the Russian Foundation for Fundamental Research (grant 01-04-49037).
Authors' Affiliations
(1)
Shemiakin and Ovchimiikov Institute of Bioorganic Chemistry RAS, Moscow, Russia
(2)
Institute of Biochemistry RAS, Moscow, Russia
Copyright
© Gurskaya et al; licensee BioMed Central Ltd. 2001
This article is published under license to BioMed Central Ltd. This is an Open Access article: verbatim copying and redistribution of this article are permitted in all media for any purpose, provided this notice is preserved along with the article's original URL.