Research article
Open Access
Residue propensities, discrimination and binding site prediction of adenine and guanine phosphates
BMC Biochemistry
2011
12:20
Received: 2 June 2010
Accepted: 13 May 2011
Published: 13 May 2011
Abstract
Background
Adenine and guanine phosphates are involved in a number of biological processes such as cell signaling, metabolism and enzymatic cofactor functions. Binding sites in proteins for these ligands are often detected by looking for a previously known motif by alignment based search. This is likely to miss those where a similar binding site has not been previously characterized and when the binding sites do not follow the rule described by predefined motif. Also, it is intriguing how proteins select between adenine and guanine derivative with high specificity.
Results
Residue preferences for AMP, GMP, ADP, GDP, ATP and GTP have been investigated in details with additional comparison with cyclic variants cAMP and cGMP. We also attempt to predict residues interacting with these nucleotides using information derived from local sequence and evolutionary profiles. Results indicate that subtle differences exist between single residue preferences for specific nucleotides and taking neighbor environment and evolutionary context into account, successful models of their binding site prediction can be developed.
Conclusion
In this work, we explore how single amino acid propensities for these nucleotides play a role in the affinity and specificity of this set of nucleotides. This is expected to be helpful in identifying novel binding sites for adenine and guanine phosphates, especially when a known binding motif is not detectable.
Keywords
Support Vector MachineAdenineGuaninePrediction PerformanceSupport Vector Regression Model
Background
Adenine triphosphate (ATP) is widely known to be energy currency of biological molecules as its conversion to corresponding di- and mono-phosphate leads to energy release, commonly used in conformational changes required for many biological interactions [
1
,
2
]. Closely related molecules such as guanidine triphosphate (GTP) also have similar metabolic implications [
3
,
4
]. Use of GTP versus ATP is highly specific to organisms as well as pathways [
5
]. Since, adenine and guanine have similar structures (both are purines) and essentially differ from each other by a nitrogenous versus oxygen group [
5
], (See Figure
1
), a high degree of specificity between them is quite surprising and not well understood. A thorough understanding of this specificity therefore has wide biological implications, including discovery of metabolic drug targets as well as inhibitor design. There are other areas of biological research, where these molecules play a role such as cell-signaling and cofactor activity [
6
–
11
]. Thus, adenine and guanine phosphates form an important group of molecules, whose interactions with proteins at single residue as well as sequence and structural motifs levels have great significance but the process of this specificity lacks clear understanding. Discovery of binding sites for each of these molecules lies at the heart of this problem and it is essential to identify such binding sites for targeting inhibitors or understanding their function.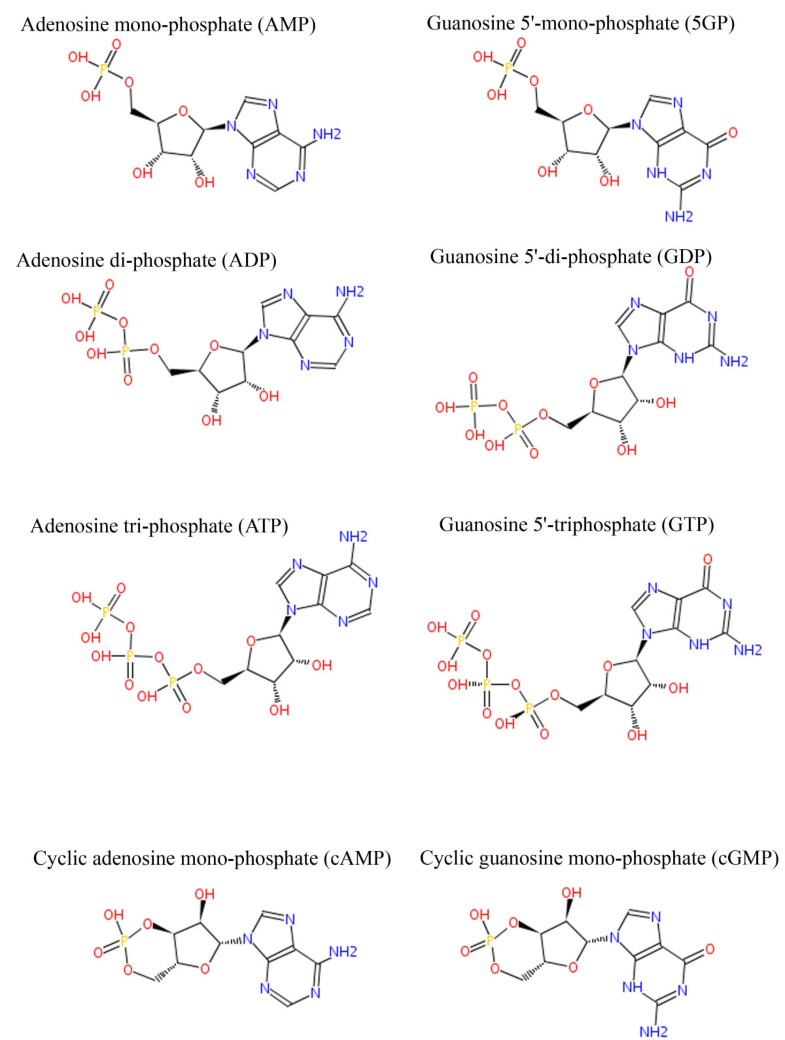 A typical problem of biochemical discrimination between ATP and ADP appears in the case of ATP synthesis, where the question is how does the enzyme bind hydrolyzed version of ATP (i.e. ADP plus orthophosphate HPO5, also called Pi), rather than ATP itself, into catalytic sites? In active cells, the cytoplasmic concentrations of ATP and Pi are approximately in the 2-5 mM range whereas that of ADP is at least 10-50-fold lower. Equilibrium binding assays have established that both ADP and ATP bind to catalytic sites of purified F1 and detergent solubilized F1Fo with relatively similar binding affinities (here F1 and Fo respectively refer to the catalytic and proton-translocating subunits of ATP synthase) [12, 13]. Obviously, the enzyme must have evolved a specific mechanism for selectively binding ADP into catalytic sites while contemporaneously discouraging access of ATP during proton driven rotation and ATP synthesis. One hypothesis is that during ATP synthesis, proton gradient-driven rotation of subunits drives an empty catalytic site to bind Pi tightly, thus stereochemically precluding ATP binding and therefore selectively favoring ADP binding [14]. Thus, the fundamental unknown, "what is the molecular basis of the ability to bind ADP at catalytic sites of ATP synthase during ATP synthesis, in the face of a seemingly prohibitive [ATP/ADP] ratio," was solved by modifying the assay originally devised by Perez et al [15] in which the protection afforded by Pi against inhibition of ATPase activity, induced by covalent reaction of 7-chloro-4-nitrobenzo-2-oxa-1, 3,-diazol (NBD-Cl) with βY297, provides the measure of Pi binding. Their original work used mitochondrial inner membrane preparations; the successful application of the modified version of assay to both purified F1 and plasma membrane vesicle preparations from E. coli, resulted in identification of five Pi binding residues namely βArg-246, αArg-376, βLys-155, βArg-182, and αSer-347, and three non Pi binding residues namely, βAsn-243, αPhe-291, and αGly-351 [13, 16–22].
ATP-binding sites have been typically identified by locating motifs in sequence and amongst them P-loop motif has been by far the most widely studied one [23–26]. Such motifs can be identified by sequence comparison; although the exact spacing between glycine residues implicated in these motifs is not always constant which may cause problems in identifying these motifs in novel proteins. However, the P-loop is not the only motif associated with ATP-binding so a motif based approach will not always work. It will obviously fail in cases where a binding site is not related to conserved motifs. Moreover the mere discovery of a motif does not help in understanding residue-wise interactions of proteins with ATP or its guanine analogues. Contribution of individual residues to the affinity of interactions cannot be inferred from such analysis.
A number of computational methods have been developed to identify ligand-binding sites in proteins at the residue level, using statistical and machine learning approaches where protein sequence information is the primary input for a prediction model [27–30]. In particular, models have been developed for DNA-binding and carbohydrate binding sites [27–31]. In regards to nucleotides, Saito et al. [31] used empirical scores for predicting nucleotide binding proteins which could successfully predict ATP binding sites. Recently, Chauhan et al., employed SVM to predict the ATP binding residues in ATP binding proteins using amino acid sequence and their evolutionary profiles [32]. In this work, we have developed support vector machine (SVM) based regression models for predictive and comparative analysis of adenine and guanine nucleotide binding sites in proteins. The analysis starts with the amino acid propensities for adenine and guanine phosphates which are then used to identify, which residues discriminate these similarly looking ligands. Then, machine learning methods are used to predict these binding sites directly from sequence data. Finally, the model trained on binding sites of adenine nucleotides is used to predict binding sites on guanine nucleotides and then to use these prediction strategies to discriminate between adenine and guanine recognition. Results of this study are likely to be helpful in annotating new proteins, their functional regions and select mutagenesis targets for a variety of molecular interactions.
Methods
Data sets
Figure
1
gives the overall structure and list of nucleotides considered in this study. As seen in this Figure, there are 4 pairs of adenine and guanine phosphates included here, corresponding to mono, di-, tri- and cyclic mono- phosphate versions of these bases. Numbers of overall and unique entries in Protein Data Bank (PDB) are listed in Table
1
. In case of structures with multiple models (NMR-solved structures), only the first models were used and structures having a resolution lower than 2.5Å were discarded from the list of overall PDB entries. Additionally, structures having fewer than 30 residues were also removed from the dataset. Finally, all unique entries were obtained by removing redundancy at 30% sequence identity cutoff, so that in the final list no two proteins binding to the same ligand have more than 30% sequence similarity. Complete lists are provided in additional file Additional file
1
.
Table 1
Adenine and Guanine phosphates in Protein Data Bank, considered in this study
| Full name | HET name | PDB entries | Unique PDB entries | Number of BS | Number of NBS |
| --- | --- | --- | --- | --- | --- |
| Cyclic adenosine mono-phosphate | CMP | 37 | 14 | 260 | 3757 |
| Cyclic guanosine mono-phosphate | PCG | 6 | 5 | 72 | 1041 |
| Adenosine mono-phosphate | AMP | 210 | 81 | 1274 | 25375 |
| Adenosine di-phosphate | ADP | 645 | 175 | 3144 | 59341 |
| Adenosine tri-phosphate | ATP | 369 | 131 | 2244 | 39468 |
| Guanosine 5'-mono-phosphate | 5GP | 43 | 20 | 278 | 4749 |
| Guanosine 5'-di-phosphate | GDP | 333 | 64 | 912 | 19887 |
| Guanosine 5'-triphosphate | GTP | 121 | 33 | 606 | 10125 |
Binding site
Residues in the selected proteins are labeled as binding and non-binding if any atom from that residue comes within 4.5Å distance with any atom of the nucleotide, when overall propensity values are considered. Atoms are grouped into main chain, side chain etc, for more detailed propensity calculations.
Propensity
Propensity, P(i) for each of the 20 amino acids is calculated by pooling all the data from the selected proteins within a category (e.g. all ATP-binding proteins) and then taking the ratio of relative number of binding residues of that type ((N b (i)/N(i))) with the overall relative number of binding residues ((N b (all)/N(all))) i.e.
Calculation of error bars
Multiple pseudo-copies of the entire data sets (for example all ATP-binding proteins) are created by successively and randomly picking up proteins one-by-one after replacement from the entire list (for example all ATP-binding proteins) until the total number becomes equal to the original data set. In this way, some proteins appear more than once whereas others are not selected at all. For each pseudo-copy of the data, propensity scores are computed and the standard deviation of these values is used as the error bar for each of the 20 amino acids. For the current study 500 copies of data were made for each category.
Prediction method
All predictions are made using a five residue window composed of a row from position specific substitution matrix (PSSM) for each residue, resulting in a 21 × 5 = 105 dimensional input vector for each residue (20 dimensions for the identity of a residue and 21st dimension for terminal position). Target sequences were scanned against the Non-redundant (NR) database of NCBI to compile a set of alignment profiles or position specific scoring matrices (PSSMs) using Position Specific Iterative BLAST (PSI BLAST) program [33]. Three cycles of PSI-BLAST were run for each protein and the scores were saved as profile matrices (PSSMs).
A sliding window is used to obtain predictions for all residues in a protein. The 105-dimensional vector inputs are trained using a Support Vector Regression model with default parameters as implemented in e1071 package of R programming environment (http://www.r-project.org). After trying a few runs with other kernels, we observed that Radial Basis Function (RBF) kernel performs the best. Thus all models used RBF kernel with default parameters. Target vectors consisted of one dimension, whose value corresponds to its binding state at a position (1 corresponding to binding, 0 otherwise). Entire data is trained using a Jackknife leave-one-protein-out procedure i.e. one protein is left out of the training set and SVM is trained for the remaining data. After the model is ready, the performance is tested on the left-out-protein. Finally reported values are the average over the proteins left out in each cycle, one after the other spanning an entire data set. This ensures that the reported performance represents true performance on blind data sets. However, when testing performance of models trained on data set of one ligand over the data sets of another ligand, performance of an SVM is also tested on the data on which it was trained (this includes all the data corresponding to that ligand). In most cases this score reaches 100% because SVM was able to over-learn and achieve a perfect separation on training examples. Apart from the SVM, we also tested the performance on neural network models trained using SNNS package [34]. However, SVM performance was found to be much better and no neural network results are discussed in this manuscript.
Performance measure
A trained SVM regression model returns a real value between 0 and 1 which can be converted to a binary prediction of binding or non-binding at various cutoffs for each residue position. Predictions are called positive (P) if the output is more than a cutoff and negative (N) otherwise. If the positive and negative predictions correctly correspond to binding sites or correctly assign non-binding status to a residue, they are called True (T), otherwise False (F), thereby assigning to each residue (at a given cutoff) one of the four labels; viz., True positive (TP), False positive (FP), True negative (TN) and False negative (FN). The number of residues in each of the four categories is counted and the following scores are calculated:
Receiver operator characteristic (ROC) curve is plotted as a (1-specificity) versus sensitivity for all cutoffs and the area covered under this plot is known as area under the curve (AUC of ROC, or simply AUC) of prediction. For an ideal case, AUC reaches 1 or 100%, (this happens if for any cutoff, all residues correctly classified into binding and non-binding classes), whereas for a random case, the AUC values are about 0.5 (actual AUC can be lower than random, as prediction results correspond to a leave-one-out data, which is always different from the training data set). Thus, AUC gives an overall view of prediction performance and can be compared between various models. If the data is too unbalanced (few positive cases in a large data of negative cases), one may need to know the true positive out of a set of predictive positive cases (rather than true positive out of actually present positive cases as in the case of sensitivity). This is measured by precision:
A score called F-measure is often used to estimate predictive power of a model, which considers both sensitivity (also called recall) and precision. It is defined as, as the geometric mean of precision and recall i.e.
AUC and F-measure, along with the precision and recall at the best F-measure are included in the prediction results.
Results and discussion
Four types of computations are performed in this work; (1) Residue propensities within adenine phosphates (2) Residue propensities within guanine phosphates (3) Comparison between adenine and guanine phosphate propensities and (4) Prediction performance for adenine and guanine phosphates and mutual similarity in prediction models. Results from these four analyses are presented and discussed in the following:
Conclusion
Adenine and guanine phosphates recognize binding sites on proteins at a single residue level as well as complex sequence neighbor effects. Using evolutionary profiles of proteins, binding sites corresponding to these ligands can be predicted with good confidence, yet the predictability of binding sites of one of them in contrast to other remains a challenging problem. Although, encouraging results are obtained using current approach, more work is needed to improve performance of predicting specificity of various adenine and guanine phosphates with respect to one another.
Declarations
Acknowledgements
The financial support from the Indian Council of Medical Research (ICMR), New Delhi, and Post Graduate Institute of Medical Education & Research (PGIMER), Chandigarh, is gratefully acknowledged.
Authors' Affiliations
(1)
Biomedical Informatics Center, PGIMER, India
(2)
Department of Biological Sciences, East Tennessee State University, Johnson-City, USA
(3)
Department of Biology, Alabama A&M University, USA
(4)
Department of Nephrology, PGIMER, India
(5)
National Institute of Biomedical Innovation, Osaka, Japan
Copyright
© Firoz et al; licensee BioMed Central Ltd. 2011
This article is published under license to BioMed Central Ltd. This is an Open Access article distributed under the terms of the Creative Commons Attribution License (http://creativecommons.org/licenses/by/2.0), which permits unrestricted use, distribution, and reproduction in any medium, provided the original work is properly cited.